Estimating the cost of website development, we need to calculate the factors that influence the final. Knowing more about pages, tech stack, features, design let us determine the exact cost to create a new website.
There are a huge number of questions about the amount of time it takes for authorization and the answers can take too much time.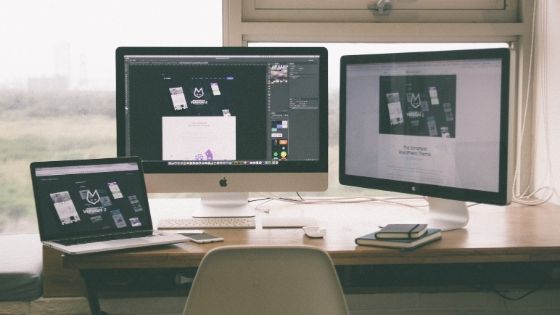 Although that estimate can't be accurate, it'll allow us to find out approximate prices of website development and average cost.
So, let's figure out how much does website development cost.
Average cost to build a website
The average cost of website development can vary from $8,750 and go up to $38,000 and can be even higher. So, let's consider the price range for each stage of product development.
The first one that is a priority is UI/UX design. You can't find some successful products with bad, unclear designs. It's very important for most users how the product looks because it attracts more attention, leads to further actions on the site and certainly won't make them leave it irrevocably.
So, the main stages defining custom website design cost are detection of a target audience and its preferences, competitor analysis, then creating wireframes to display the schematic layout of elements and agreement with the customer, and the last one is app prototyping to show how it will look on devices. Such segmentation helps to achieve maximum efficiency and accuracy in the development of every detail of the project, for example in custom software development.
Average cost of UI/UX design creation can vary from $700 to $4,000 and more. The amount of development time can't be defined exactly as it depends on your requirements for animation, the number of pages and so on.
So, after the UI/UX design creation, the front-end development starts. It's the front side of the site that you can see and interact with. For example, on the user registration page, you see fields for entering a name, mail and password with colors, shadows and a green "register" button. When you push it, you can see the animation. Interface creation is starting after UI/UX design, which means that all the prototypes are turned into end-products by developers and work on different browsers.
That project stage is starting with QA engineers, who then continue to work until the project release. Animation complexity and site responsiveness are the main factors affecting the cost of developing an entire site. The very same front-end development costs can vary from $ 1,000 to $ 12,500 and over.
Now let's talk about what back-end development is. Going back to the registration example, the input data is transferred to the server and register you as a new user once you press the green button. The page is a set of code rendered by browsers, this code can't independently register a user. If an error occurs, you will receive a message about it, for example, that you have already been registered.
So, the back-end underlies every website, providing all its features. That means a significant part of the cost is spent on back-end development. The main factors affecting the total development time and the average cost of the site are integration with other services, non-standard data processing such as audio, complex queries. The cost of back-end development can vary from $4,000 to $12,500 and over.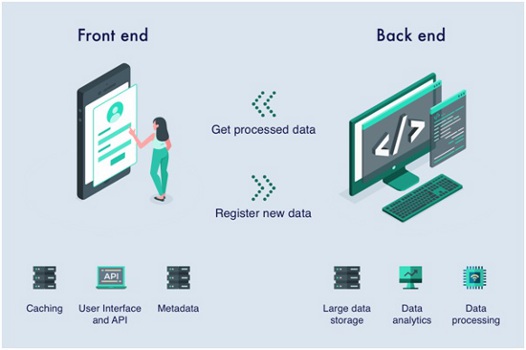 You've probably heard of such Content Management Systems (aka admin panels) like WordPress, Shopify, Drupal, and others designed for creating, managing, editing the site content. They also reduce development time and website creating costs. However, these ready-made solutions can be limited in functionality and security. The latter is due to the fact that malware usually targets popular systems, not special ones. The costs on that CMS can vary from $3,000 to $9,000 and over.
You should also understand that the final development cost varies across regions where you outsource web development or form an in-house team. For each region, you can calculate the average cost of developing a website by multiplying the time range by developer hourly rates in the chosen country or region. At the same time, in different projects, the cost may be different.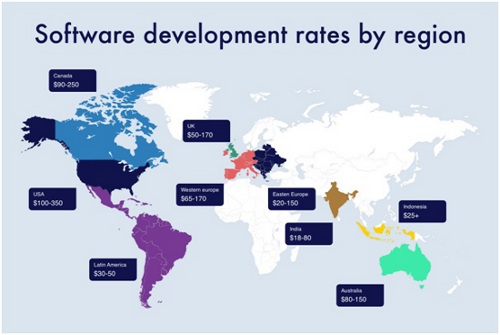 Cost to create a website (by types)
Websites are created for different needs – for blogs, hosting personal portfolios, or maintaining complex enterprise solutions. That's why development complexity influences web development time and cost.
So, we've identified several frequently requested types of websites and estimated how much money their development is approximately required.
1. Website for a Business – price varies from $9,500 to $13,000 and higher.
It can be informational sites aimed at brand promotion or increasing customer loyalty. The cost of their development depends on their complexity. Clients often request such pages as about company, services, contacts, blog or press page and comment to find out the cost of developing business websites. These pages are the basis of such websites, which are always unique and have a different structure. Not only the number of pages depend on the development cost but also features you'd like to fill them with.
There are other frequently requested features for business sites such as SSL certificate, contact back form, integration with live chats (Intercom, Freshchat, Chat.io) or admin panel.
It is more difficult to estimate the average cost of building a business website for mid-size businesses and enterprises, as they often have special hard-to-identify requirements for security, features and pages.
2. E-commerce Website – the cost varies between $17,500 and $37,500.
So, it's difficult to determine the average cost of developing a website for E-commerce through the huge number of pages and complicated functionality. There are most frequently requested pages such as the main page, shopping cart, favorites, product pages, and such features as integration with payment systems like Apple Pay, Google Pay, PayPal, personalized push notifications and admin panel.
Features and pages, as well as the final price, may vary. This is explained by large websites requiring careful design to withstand high loads and rank well in search engines and it requires large investments. Determination of the technological stack of the project, its complexity and goals require consultation with a specialist.
3. Landing Page – can cost from $1,000 to $2,500.
Typically, these pages are created to promote apps. Talking about the development, a landing page is a single-page site or a separate page on a multi-page website also created to promote or sell something. They don't have much content that allows users to focus on buying or downloading something. What concerns the price, the cost of a very long landing page is still lower than a multi-page site and also affects development time, as does animation complexity.
Additional website creation costs
Firstly, additional costs will be required to pay for a domain name from $5 to $15 per year. There is the name you can see in your browser's address bar and register it on dedicated services through time-tested registrars such as GoDaddy, Hostinger, Bluehost or Interserver.
Another additional expense is hosting. It's a service that lets you keep your files and sites in round-the-clock access, manage these files and change their properties. The price can vary from $75 to $200 per year. Hosting providers affect the loading time of your site, for example, such as Hostgator, Ionos, or Inmotion.
The last additional expense is website maintenance. It's needed to maintain its high-quality work and fix emerging bugs. That may cost from $500 to $12,000 yearly.
Website marketing expenses
Marketing expenses should be included in addition, because your product won't work if nobody knows about it.
The first step to let the audience know about your company and convert them into buyers can be Pay-Per-Click (PPC) advertising using a high-powered Google with its AdWords tool to manage your campaigns. It can be used by advertising professionals and ordinary users. The price per click highly depends on the industry and chosen keywords.
You can also optimize your website for search engines by SEO to let your clients find your website using related keywords like "rent a flat" or "buy a phone". Your optimization will be higher if your site is ranked higher on Search Engine Results Pages (SERP). The cost of the SEO depends on your needs, it can vary from $300 to $1,500 monthly on average.
The last two things that are important and will be effective are copywriting to attract a lot of traffic and potential customers by quality texts that are optimized by keywords that are relevant to your business (the average cost varies from $50 to $500 per article) and social media marketing (SMM) that costs $400 to $20,000 on average.
Final price
So, what is the price of website development? The final price can be found out only after the exact definition of all requirements. In general, the price can range between $2,500 and $38,000 and even higher.