Throwing a birthday party or arranging to wed outdoors ultimately from scratch makes it unique and expresses your style. Organizing such an event needs a complete blueprint for every step of the event. The first preference is to make everyone feel comfortable at the venue.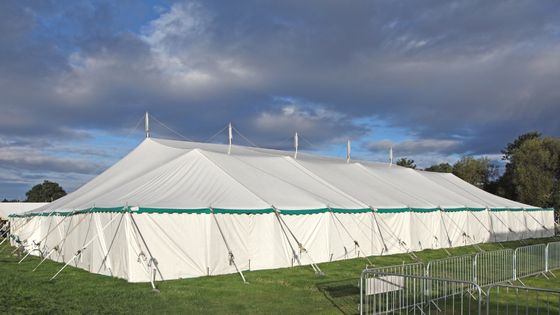 Organizing an event indoors is much easier, as everything is always in place. The dance floor, lighting, catering, and bars; each and everything is already sorted. But outdoor events require well-organized places for guests to eat, dance, enjoy, and relax. For that, you gotta decide what kind of tent, marquee or framed marquee is best suited for your event. It must be sufficient to accommodate all the guests and organizing staff, caterers, and servers.
1. Plan The Layout for Your Marquee:
Well! The first thing is to figure out how much area needs to be covered. Make a blueprint of the venue. Mark the main stage, bar, catering, dance floor, play area for kids, lobbies, and everything else you want to place at your venue. This layout will let you design and visualize the event. This way it's easy to make changes before the installation of the marquee physically. It's necessary to visit the venue first before making any plans. Don't believe in word of mouth, make sure to analyze the place by yourself. You might find surprising details about the place that can help you with decor and other changes to your layout.
2. Number of Guests:
Make a complete list of people who will be attending the occasion. This gives you a clear picture of the required area to be covered. You can figure out what kind of tent or marquee would be required to set up the catering area. You can install a separate transparent marquee for the dance floor and bar. Make a list of the number of expected children and adults. This will let you know whether you need a separate tent to set up a kid's area. Small pole tents for a similar category are quite an option.
3. Types of Tents:
As you are done with the number of guests, you can now decide how much area is required to be covered. To get the work done, you first need to check the different types of tents available out there. The list is quite long, but for ceremonial and formal events, these listed tents are what you need.
Frame tents: These types of tents create a frame without any center poles. These tents give a clear area without any obstructions. These are also called party tents.
Transparent or unlined tents: How about making the place more realistic while counting all the possible encounters of weather? Transparent tents let you watch the stars and the natural scenery around you and keep you safe from rain, heat, and other environmental adherence.
Ceremonial tents: These types of tents are usually more oversized and accommodate a large number of guests at once. This size of tent is especially recommended for weddings.
4. Size of The Venue:
As we suggested earlier, a visit to the venue is a must. Outdoor weddings are more happening, as you can design and decorate from scratch. It gives you the liberty to make your day look just what you imagined. The size of the venue matters a lot in terms of decoration and accommodation of the guests. Your place must fit all the requirements in terms of transportation, accessibility, beauty, and in case of any emergency. The venue must be feasible to the layout you have planned.
5. Budget:
Nothing will go as planned if you do not plan it the correct way in terms of money. Set a budget before choosing a theme, venue, or setting layout. Spending an unrealistic amount of money just on celebrations is not a wise move. You must look out for the expenses you have to deal with after moving in together. Make a clear list of things that you actually want to include in your event. Don't overdo anything to please your guests. You can make all the arrangements under your decided budget. Just research more and check out for alternates at a lower cost.
6. Location and Weather:
All the arrangements are ruined by unpredictable weather. Too much heat, humidity, and rain, everything will bother you on your important day. It's necessary to check all the weather details before deciding on the venue. These impact your selection of stretch structures and tents for the particular location. A place near the lake or river gets cold by night. Thus, you might need a covered tent.
7. Room for Furniture:
Tents are required to cover the furniture. It saves it from getting hot at your summer party. Everyone needs to get away from these noisy party places to get charged up for a while. You can create a chill-out zone for people to relax and chat with friends. A small tent with a couch and tables will do the work.
8. Back-Up in Case of Rains:
These tents are required to cover your head in all types of weather conditions. Rain or even a drizzle can mess up all your arrangements in no time. Tents are safer to keep you going with your party. The transparent marquee looks absolutely gorgeous during rain. You can admire the water splashing on your head without getting you wet.
Outdoor parties look happening and hot on tv shows only. You need a place to hide from the hot sun and rain to be more realistic. It's better to have a backup plan to avoid last-minute hustles.
9. Hire Professionals:
Organizing an outing seems convenient but trust me it's not. It takes a lot of time and experience to get everything done in the expected way. For instance, installing tents and poles needs professional help. Check out the websites that organize such parties in your budget. Some venues also offer deals with all the tents, structures, and frames installed. You can make the alterations according to the requirements to fit in. These professionals help you design better with their experience in this area all these years.