A sturdy toolbox is an asset for professional technicians and DIYers as it comes in handy in organising, moving, and safeguarding tools from damage. It allows the owner to store tools safely in one place instead of keeping them lying around in a disorganised manner. An organised toolbox will enable the user to be quicker and more efficient with the task at hand.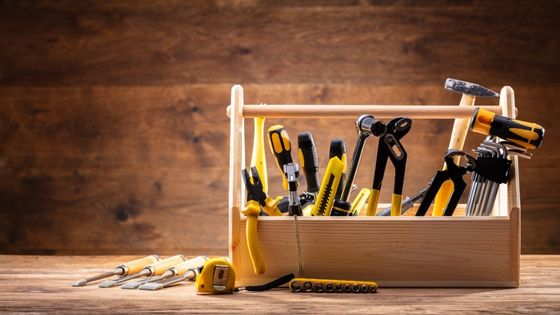 If you want to buy a toolbox, our comprehensive guide details different types of toolboxes available in the market, must-have trade tools for professionals, and factors one must consider before purchasing a toolbox online.
Considerations While Buying a Toolbox
Storage — Toolboxes come in all shapes and sizes. Storage capacity allows you to determine if a toolbox has enough space to accommodate your current tools collection and additional capacity for new tools to be added in the future.
Drawers Size/Style — Check the number, size and style of drawers in a toolbox. Measure the length and width of your tools as well as the drawer. Then, choose the one that fits your tools in a hassle-free manner.
Durability — A toolbox's quality is of paramount importance, especially considering that it's a long-term investment. For small, lightweight tools, a light plastic toolbox would do. But, if you are a professional who uses heavy tools, then you need a toolbox that is well-constructed and made of high-quality material.
Slides — Two types of drawer slides are used commonly—roller-bearing and ball-bearing. The roller-bearing slide gives a slight advantage in pulling out the drawer but may be hard to open, but the ball-bearing slide functions smoothly even with heavy drawers. So, make sure your toolbox has ball-bearing slides inserted and can handle the heavy weight of tools.
Lock — To ensure the safety of your tools, toolboxes come with two kinds of lock systems—internal and key-operated. The internal locking system covers the drawers after the top lid is closed, while the key-operated lock system is for additional security.
Mobility — Identify the purpose for buying a toolbox and then check the unit's build quality. A toolbox with efficient wheels and an extendable handle is well-suited for jobs requiring frequent movement. A large rolling toolbox or chest might be more appropriate for someone with many tools who only needs to move the box around a garage or wants an additional work surface.
Essential Tools For Your Toolbox
Hammer — Used for driving nails or to break something, a hammer is one of the most frequently used tools. When purchasing one for your toolbox, ensure that it is a good fit for your hands, is not heavy and doesn't have a wooden handle, as it breaks easily.
Screwdriver — Different types of screwdrivers serve different purposes, but the most common application includes fastening and removing screws. Choosing the right screwdriver for the intended purpose is important otherwise, it might strip and damage the screw.
Wrench — Wrenches are one of the preferred must-haves in a toolbox as they can adjust to different sizes of nuts and bolts. Wrenches are used for gripping, fastening, turning, tightening and loosening pipes and pipe fittings, among others.
Other essential tools include a tape measure, pliers and drills.
Types of Toolboxes Based on Material
Aluminium Toolbox — Owing to its rigidity, sturdiness, and lightweight qualities, aluminium is the most commonly used toolbox material. It lasts for a long time, doesn't corrode and also protects tools from rust.
Steel Toolbox — A sought-after material, steel only comes second to aluminium. Steel toolboxes are heavy and sturdy and are helpful to work with in rough conditions like a workshop. Best used to store heavy tools, these toolboxes are damage resistant and are easier to clean and maintain. Additionally, the special coating on the inner and outer surfaces protects the toolbox from rust and corrosion.
Stainless Steel Toolbox — These toolboxes provide better durability and strength than aluminium and steel but come at a higher price. These premium toolboxes are made of high-quality steel alloy, making them appear new for many years.
Plastic Toolbox — These toolboxes aren't very durable but never rust. These come in various sizes at affordable prices, making them a preferable option for DIYers and beginners.
Must-Have Tools for Professionals
Hand tools — Hand tools include a wide range of tools that can be operated mechanically by hand without using electric power. These must be of premium quality to help you finish the work with 100 per cent accuracy. The most commonly used hand tools include screwdrivers, pilers, wrenches/spanners, and flashlights.
Diagnostic tools — Diagnostic tools help you to make an informed decision based on data. With these tools, you can conduct a check and find if there are any faults with the equipment. These can include battery analysers, torque wrenches, jump starters and circuit testers.
Automotive tools — Automotive tools help you service and maintain cars, motorcycles, and trucks. Both professionals and DIYers use these automotive tools. These include a wide range of tools like wrenches, socket sets, screwdrivers, spanner sets, sockets, ratchets, torque wrenches, and work lights, among others.
Cordless tools — Cordless tools are battery-powered handheld tools, enabling better efficiency. Instead of removing or fastening a screw, nut or bolt by hand, the power from an electric motor can help make these tasks easy, prevent injury and damage to the materials. These include impact wrenches, mini ratchets, impact drivers and more.
Conclusion
When you look for a trade tools supplier, ensure that it offers top-brand products at affordable prices with warranty and customer-friendly return policy, offer flexible payment options, has genuine customer reviews and provides prompt Australia-wide delivery.
Go to the best trade tools Melbourne supplier and get the best budget-friendly toolbox that suits your needs and will last for a long time.