Who is an Aircraft Maintenance Engineer?
An aircraft maintenance engineer (AME) is a highly qualified licensed professional who is responsible for carrying out the maintenance and upkeep of aircraft. Every aviation vehicle that takes a flight goes through the rigorous inspection of hardware and operating systems on a regular basis. Such tests are carried out by aircraft maintenance engineers. The job of an AME is to assure the safety and security of an aircraft and point out any red flags in the models.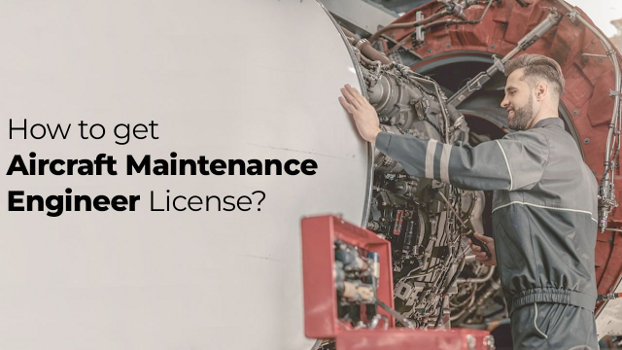 Aspirants who are interested in becoming an AME first enroll in the course from a DGCA-accredited college. The Directorate General of Civil Aviation (DGCA) is the civil aviation statutory body of the Government of India. The body regulates the inspection and investigation of aviation incidents in India. DGCA is the sole issuer of AME licenses in India as well.
What is an AME Course?
In India, to become an AME, one must complete the Aircraft Maintenance Engineer course. Aircraft Maintenance Engineering is a two-year-long course consisting of theoretical and practical training. The two years are split in half, with the first years dedicated to academics and the final years to on-the-job training. To practice as a certified AME, one must earn the covered AME license. Those enrolled in the Aircraft Maintenance Engineer course can apply for an AME license.
Eligibility Criteria for AME
10+2 certification with physics, chemistry, and mathematics (PCM) as their main subject.
3-year engineering diploma in science with math and physics as a major.
45% aggregate in 10+2.
Must not have any disqualifying physical limitations such as defective eyesight, physical disability, etc.
How to get Aircraft Maintenance Engineer License
An Aircraft Maintenance Engineer License is awarded by the Government of India's aviation branch, the DGCA. It is achieved after the successful completion of the AME course and the passage of the DGCA exam.
Step 1: AME Entrance Exam
Admission is granted through a stiff screening process which is done by an all-India admission entrance examination popularly known as AIAEE (All India AME entrance examination) exclusively for the Indian Institute of Aircraft Engineering (IIAE) registered candidates only. Every AME college's enrolment is based on an entrance exam which screens the candidate based on the 10+2 level knowledge. The AME-CET exam is a multiple-choice questionnaire from five subjects: Physics, Math, English, Chemistry, and General Awareness. Candidates qualifying for the exam get admission to the highly coveted four-year AME course.
Step 2: AME Course
In order to get admission into an AME course at IIAE, earn your Certificate of Recognition from a DGCA-approved institute and clear the examination set by DGCA.
The multifaceted AME course is split into two portions and covers the basics and advanced knowledge of aviation, aircraft management, aircraft engineering, and so on. Leading topics of the course include electrical fundamentals, digital techniques, materials and hardware, maintenance practices, basic aerodynamics, human factors, gas turbine, etc.
Step 3: Requesting a license from the Directorate General of Civil Aviation (DGCA)
Once the academic and training modules are over, students take their final examination and move to the next level.
The next level entails:
Applying for a job in a flying training organization or airline company
Acquiring training experience in accordance with CAR 66
Qualifying for written and oral exams
Clearing the DGCA Licence exam
Aircraft Maintenance Engineer Licencing Categories
| Category | Supervision | Aircraft |
| --- | --- | --- |
| A1 | Technical | Aeroplanes with a jet engine |
| A2 | Technical | Aeroplanes with a piston engine |
| A3 | Technical | Aeroplanes with a jet engine |
| A4 | Technical | Helicopters with a piston engine |
| B1 | Mechanical | Engines, wings, and other aircraft components |
| B1.1 | Mechanical | Jet engine aeroplanes |
| B1.2 | Mechanical | Piston engine aeroplanes |
| B1.3 | Mechanical | Jet engine helicopters |
| B1.4 | Mechanical | Piston engine helicopters |
| B2 | Electrical | Electronic and avionics systems of the aircraft |
Aircraft Maintenance Engineer Salary
Licensed Aircraft Maintenance Engineers can start their careers after giving two years into their course. After the conclusion of the 2-year academic programme, they begin their training module. During their training period, they shadow professionals in the field and learn the intricacies of the inspection. During their training, they are compensated with stipends that range somewhere near INR 20000 – 30000 pm.
Once the training is completed, licensed AME is eligible for employment in airline companies and aviation avenues around the globe and in both private and public sectors. License AME are high earners, with an annual average salary going as high as INR 40 LPA per year.
The Importance of Aircraft Maintenance Engineer License
Aircraft Maintenance Engineer License is an internationally recognized licence. It is issued by the International Civil Aviation Organization (ICAO).
The license is issued after several evaluations and independent examinations that assess the strengths and mental aptitude of candidates. AME, a universally applicable licence, is a pathway to a glowing career with a high salary, an esteemed position, and offers countless perks. The preparation for the tests and acquiring the license begins soon after enrolling in AME colleges in India.
The Job of a Licenced AME
Every aircraft, large or small, must go through a thorough government-mandated inspection performed by a third party before it takes off. A licensed AME lays out the plan and pathway for inspection of the aircraft before take off. Their job is to thoroughly inspect the aircraft and all of its various components, including the operation resources such as fuel, energy, engine, etc.
A Licensed AME is in charge of-
Pre-flight inspections
Inspection of airframe systems and landing gear
Jet fuel and refuelling
Major and minor avionics
Line responsibilities of the electrical, and mechanical operations
Fault diagnosis of an aeroplane hangar
It is an essential job that can be performed by highly credible and internationally licensed aircraft maintenance engineers. An AME takes responsibility for the aircraft's performance and the passengers' safety.
In Conclusion,
Plenty of things can go wrong when a 41,000 kg vehicle flies in the air. An Aircraft Maintenance Engineer is responsible for the final inspection of an aircraft before it soars into the sky. Aircraft Maintenance Engineer is a high-stakes job. It is equally rewarding and can lead to a highly lucrative career in the unique field of aircraft management. All these skills and advanced techniques can be earned only in a certified institute like IIAE Delhi. For admission or course-related issues, contact IIAE through their official website.