Introduction to Bachelor of Arts (BA)
BA is a 3-year undergraduate degree. It is pursued in the fields of liberal arts, social science, and humanities. BA students have the opportunity to choose their major and minor focus subjects on sociology, religious studies, psychology, philosophy, History, etc. Being one of the oldest collegiate degrees, a BA is a world-renowned course with renditions in almost every country.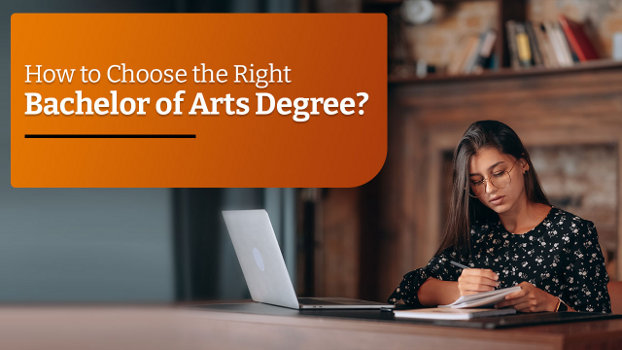 Standout features of a BA course:
BA offers the widest range of subjects to choose from and offers a wide range of career opportunities.
It is a flexible course that accommodates the changing trends of the employment sector and is adaptable for students from various backgrounds.
It provides marketable skills to people that amp their resumes and employability.
It works on the analytical, communication, and research skills of young career professionals.
It opens up employment avenues in advertising, management, journaling, marketing, politics, police, academics, teaching, etc.
Leading Degrees of the Bachelor of Arts
| Subject | Purview | Job Profiles |
| --- | --- | --- |
| Art History | An investigative approach to the history of art that underlines the importance of art history programs, the interpretation of art science, and the curation of forgotten art pieces from the past. | Art curator, art writer, museum curator, historian, educator, etc. |
| Business | Foundational education of finance and commerce with a special focus on history and humanities, including the art of management, human resources, and taxation. | Financial analyst, marketing manager, sales manager, financial consultant, etc. |
| Communications | The study of messaging, large-scale communication, information consumption, public relations, and media presentation. | Journalist, publicist, writer, advertiser, marketer, etc. |
| English | A BA in English covers literature, narration, storytelling, linguistics, and advanced comprehension of the subject. | Journalist, writer, editor, advertiser, author, educator, etc. |
| Liberal Arts | BA Liberal Arts encompass a variety of subjects such as psychology, history, creative writing, literature, and public policy. | Community manager, policy advisor, educator, consultant, etc. |
| Political Science | The study of politics, public policy, consensus building, movements, and political science. | Educator, researcher, data analyst, etc. |
| History | BA in history explores the study of the past and developing research papers about significant periods of past times. | Historians, archivists, educators, etc. |
| Psychology | Psychology is the study of human behavior, criminal psychology, and social counseling. | Social worker, educator, journalist, clinical therapist, etc. |
| Sociology | Sociology is the study of society, group behavior, understanding of the human psyche, social change, and market research. | Statistician, Data analyst, Census researcher, Survey research technician, Interviewer, Criminology researcher, Market researcher. |
The Choice of the Right Bachelor of Arts Degree
Choosing the right BA degree is more important than finding the best BA college in Raipur. Kalinga University can be a one-stop solution for all those students who are looking for ideal educational institutions to make their career through a BA Arts degree.
Students enrolling in the University of Raipur must choose a major during their first year of the bachelor of arts degree. There are many options for you, and the choice comes down to many factors. Here are some of them:
1. What is your favorite subject to study?
It bodes well to reflect upon your subject of choice in high school and evaluate your likes and dislikes. A BA degree from the University in Chhattisgarh liberates you from the bondage of pursuing compulsory subjects that you have no interest in. Choosing a subject of interest increases your chances of pursuing a successful career by a remarkable mark. Since BA classes are mostly theoretical, there's a lot of studying involved in each subject. If social science was one of your subjects of choice, then political science, sociology, history, and art history are some of the areas in which you may excel. If reading, writing, and literature comprehension is your area of interest, then English Literature should be your Bachelor of Arts Degree.
2. What is your envisioned career?
Where do you see yourself in five years? Are you inclined towards pursuing a mundane desk job with a sociology degree? Are you interested in pursuing a career with a field job and remote work with a communications degree? Would you like to be knee-deep in research about interpersonal projects with a history degree? Are you ready to struggle as a creative artist with an art history degree? Would you like to teach a subject you're passionate about with a liberal arts degree? Having a clear sense of your future can guide you in your decision-making process.
3. What is your dream job?
Envision your mood board and figure out your dream job and then pick a major that places you closest to that goal. Even if you don't find the perfect fit, pick a BA major from Kalinga University that at least places you on the pathway to your dream job. If your dream job is a professorship of art history, then you should pursue a bachelor of arts in art history, and so on.
4. What serves your immediate interests?
Do you want to join college full-time? Or, do you want to juggle some side interests along the side? Several disciplines such as history, sociology, psychology, and architecture can take a fair amount of time out of your schedule. Whereas other subjects can be handled with a little time to spare. Choose a major that fits best with your current study schedule.
5. What colleges do you think you can get into?
Are you aiming for colleges outside of your hometown, or do you want to pursue a bachelor of arts from your local college? Make a list of colleges that you wish to seek admission to and evaluate their best degrees/departments. While the leading BA college in Raipur offer bachelor of arts degrees in all leading disciplines, some colleges excel in only a handful of degrees. If you're confused about your inclination for a discipline, then let your choice of college decide the degree for you.
Summing up,
A Bachelor of Arts is a great degree that places you in control of your education and career. And this degree should be taken from a prestigious university such as Kalinga University. You can make a tremendous difference for yourself and the world with a bachelor of arts degree. Although the choice of major can be daunting, landing on it is an essential first step towards a lucrative career in your field of choice. Good Luck!