Students no longer seek admission in technical fields like engineering. Fields such as design have rapidly spread as a preference for students. Design is an element that is present everywhere around us, making it a field that is high in demand in the current job market.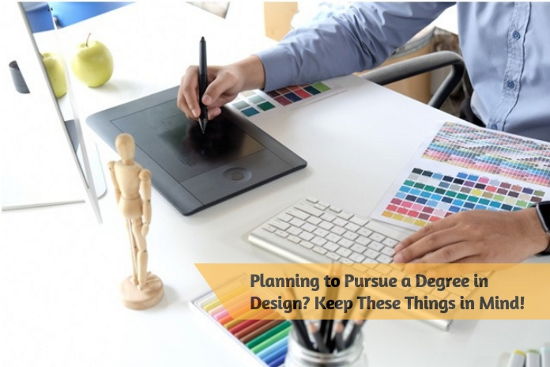 If you want to turn your dreams into reality, then a degree in design is just the course you need. In this field, you are required to be innovative, creative, and out your imagination to work. When you pursue a degree in design, you can align your area of interest and choose a specialization; you can choose from various specialized schools such as graphic design schools.
While choosing a degree in design, you must make a wise choice as the field is vast and extensive. If you are planning to pursue a degree in design, here are a few things to keep in mind:
A plethora of Career Options
Contrary to the myth, getting a degree in design does not imply that you can only pursue a career as a fashion designer. The field of design is vast and full of lucrative opportunities. As a graduate in design, you can work as an illustrator, art director, animator, creative director, graphic designer, and much more. The possibilities are endless in terms of career when you choose to do this course.
Your Skills Will Be Put to Test
A degree in design helps you develop skills that not only enables you to grow as a design professional but also otherwise in life. Some of the skills that you will develop in the duration of your degree are creativity, teamwork, research skills, an entrepreneurial streak, innovation, and many more to add to your list. These skills that you develop will come to use over the years to help you grow and prosper.
Choose Your Specializations Wisely
Design is a vast field that encompasses various specializations that you can choose according to your interest. These specializations help you to become a professional with undivided attention in the field you want to excel in. For instance, if you aim to become a creative designer, art director, web designer, and the likes, then you should join a graphic design school.
Must Work Hard to Excel
Masses assume that pursuing a degree in design is easier than other courses. However, this isn't true as this course involves a lot of hard work and dedication. As a design student, you will have to research, do projects, build a portfolio, and other things that will require just as much effort as the next course.
Essential to Stay Up to Date with the Trends
The aesthetics of design is constantly changing, and it is necessary to be up to date to current trends. In most design courses, such as a graphic design school, you will have to use multiple software and programs. It becomes essential to know the latest features and advancements that take place so that you can imply them in your work. Similarly, if you are pursuing a degree in fashion designing, you must be updated with the latest cuts, silhouettes, designs, and more.
Here's What We're Saying
There's a plethora of universities and colleges that have emerged across the nation that offer students a degree in design. However, most design colleges lack the element of specialization, one such university that has multiple specializations along with all the amenities for design student is UPES. The university has various B Des and M Des specializations that you can choose from. The curriculum is aligned with the latest industrial advancements that help you stay up to date with the current trends. Even the faculty is highly skilled as they have in-depth knowledge of the field. All of this, along with hands-on industrial exposure, helps the students of design become the best professionals in their respective specialization.