Blepharoplasty or eyelid surgery is a kind of cosmetic surgery for reconstructing droopy eyelids. This surgery may include removing extra fat, muscle, and skin. With the age, the eye muscles get weaken are providing less support due to which some extra fat gathers in above and below side of the eyelids. As a result, the eyebrows get saggy and you may also see droopy upper lids and bags under the eyes. Blepharoplasty can be performed on your upper lids, lower lid, or you can also go for both. Eyes impact your appearance a lot! Droopy eyelids make you look aged. Just eyelid lifts can improve your facial appearance and makes you young. If you want to look pretty and young; Blepharoplasty is the right choice for you.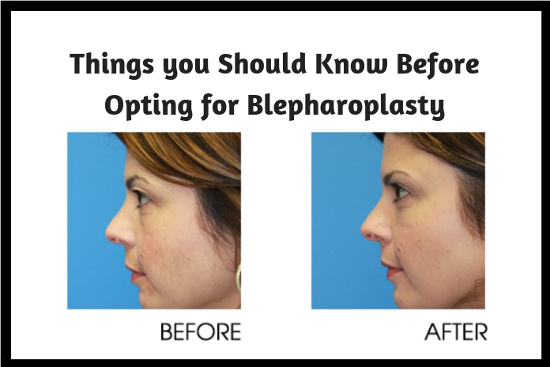 Here are some things you should know before getting Blepharoplasty:
Are you a good candidate?
People who are physically fit and do not have any medical conditions which can affect the healing process
Nonsmokers (Beneficial for healing)
Should not have any kind of serious eye conditions
People may get drooping eyelid appearance when the forehead skin and eyebrows get relaxed. An upper drooping eyelid can also occur when the upper eyelid muscle get stretched out. These kinds of situations may need different treatment.
Things you should prepare before Blepharoplasty
Before your surgery, you will get consulted with an ophthalmologist (eye specialist) and your plastic surgeon. The ophthalmologist will ask you some questions about your medical history. Always give genuine information about your medical condition and don't forget to ask questions which are on your head related to the procedure and result. Blepharoplasty Montreal assures to provide best eyelid surgery with a minimum number of risks.
Medical History: You will be asked questions regarding your medical history such as any previous surgeries, diabetes, or thyroid issues, etc. You may also get questions regarding your medication, alcohol and drugs consumptions, herbal supplements, etc.
Expectation: Talk to your surgeon and tell him about your expectation regarding this surgery. Only your surgeon can tell you about the outcome of the surgery.
Types of Blepharoplasty
There are three types of Blepharoplasty which are operated according to the shape and health condition of your eye.
Upper Eyelid Surgery: Upper Eyelid Surgery is often done for improving vision loss or to restore your facial appearance. This surgery helps to restore your eye functioning and provide better shape.
Lower Eyelid Surgery: This surgery is done for removing wrinkles and reconstructing the baggy eyes.
Double Eyelid Surgery: This surgery is done to create a crease on your upper eyelid. Double Eyelid Surgery is very famous in Asian countries.
Blepharoplasty makes you look young, but you have to keep patience. The scars you get from surgery may need months to fade It may take 10 to 14 days to reduce swelling. You must have to take care of your eyelids until they get fully healed. After proper healing, you will get well-constructed eyelids which enhance your appearance and make you beautiful.