There is a common misconception that curvy girls are not good in dresses because it just makes them look bigger. This is not entirely true. The key to wearing dresses is that you need to find the right design that complements your body shape regardless of your size. If you have a bigger build, it does not mean that you should stick to oversized clothes and outfits that will hide your body's areas that you are not confident of.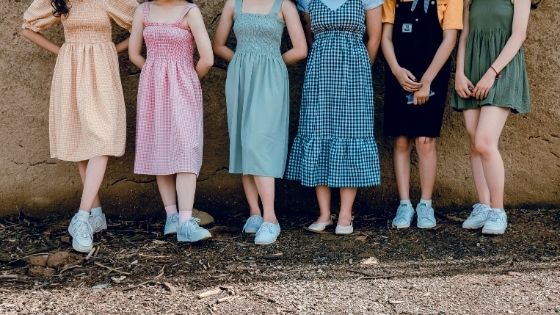 This rule is also applicable in finding the perfect skater dress for your body size. You need to find the dress that may not necessarily hide your imperfect parts, but something that will accentuate your frame and flattering angles. Styling, after all, can make a huge difference in your appearance. To help you find the best skater dresses, consider the following tips.
Always Choose a Dress That Fits Perfectly
You may have the urge to buy oversized dresses and clothes to hide your problem areas, but this will not make you look any better. Instead, oversized dresses just make you look plumper than you are. So, avoid bigger sized skater dresses and go for one that fits your size and body shape perfectly. You can also go for more comfortable fabrics. The right fit will always flatter your body shape and make you look slimmer, too.
Experiment With Waist Belts
In any outfit, waist belts will always be life saviours. Go for broad and wide waist belts that will accentuate your curves and define your waist. These belts will not only make you slimmer but will also compliment any outfit you wear. You can be bolder when wearing your skater dress by accentuating it with wider belts. Just make sure not to tighten your belt because they will emphasize your bulge.
Go For Smart Detailing And Vertical Prints
As you already know, vertical prints can create an illusion of height and slimness. Small patterns and colour-blocking patterns will also look perfect for voluptuous women. Take note of this when looking for designs for your skater dresses. Again, you can go for diagonal prints since this can also draw the attention away from your waist and make it look slimmer.
Do Not Be Afraid To Show Skin
Go for skater dresses that have V-shaped or deeper necklines since they can make your neck look lengthier. If you are on the curvy side, you can also opt for dresses that have shorter sleeves or knee-high length. With more skin, the viewer's attention is also directed to the dress and not on your body parts, making you look as small as the fabric they can see wrapped in your body.
Pair Your Skater Dresses With Statement Shirts
The good thing about these skater dresses is that you can wear an oversized statement shirt over it and still look smaller than your actual size. You can crop the shirt by tying it slightly about your waist, making it look like a poncho. The trick here is to use a shirt that is one size bigger than your actual size. You can surely rock a sassy casual look with your everyday sling and outdoor sandals with such combination. If you want to go for the rocker look, you can simply slide the shirt over your dress, put on a belt, and grab your favourite leather jacket and pair of DMs.
These may be simple tips, but they can surely upgrade your look while flattering your body shape and making you look slimmer and taller.