LMS integration with personalized tools has become a much-needed trend in society. All the businesses have started CRM-LMS integration and there are so many great reasons that support this integration. You see, managing customer relationships is the priority of every enterprise, and when you want to bring an LMS into the picture, it is always better to take LMS integration service to synchronize with your current CRM. All the customers that connect with you directly or indirectly become a part of the CRM. Your sales team is already in touch with the CRM closely and thus, when you can integrate a learning management system with the same, you automatically reduce the gap between a customer and the product knowledge that you are sharing.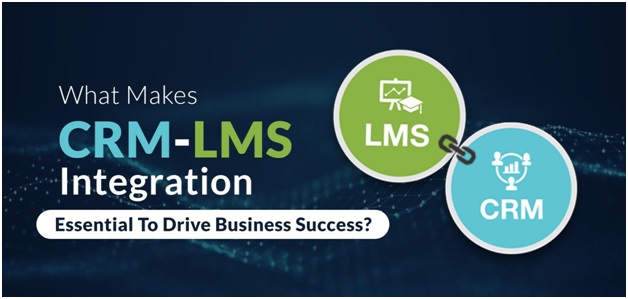 You see, when you are a company based on an online tool or a product, you must understand that to keep your customer intact, there has to be a training session so that the user can learn how to interact with the interface and make the most out of the product that you are offering. As the stats speak, more than 90% of educated customers get converted on every renewal while the rate of renewal is only 60-65% for the uneducated customer. It is your duty to bring them onboard successfully and that is why it is you who has to educate the user on how to make the most out of the tools that you offer. Needless to say, CRM-LMS integration is a match made in heaven for enterprises looking to drive their businesses towards success!
How? Well, we will take a deeper dive into it through this post so make sure you read it till the end. Customer Relationship Management Tools have gained immense popularity and shown reliable use cases in the past and present. This is why the experts have always wanted to make the most use of the features that salesforce CRMs commonly have to offer.
Benefits of CRM-LMS Integration: Optimization & Beyond
The fundamental reason that entrepreneurs are moving towards CRM-LMS integration is the centralized idea of curating the data that is generated from both CRM and LMS individually. Three are so many other benefits that this integration brings on board, what are they? Well a few of them are listed below for your reference. Go through them to get a better understanding of the CRM-LMS integration.
Better Customer Interaction
If your consumer is not taking interest in the platform that you have offered, there is something wrong with the approach that you have taken for your business. When you leave so many loose ends in your work, it reflects badly on the product and hence things go south. By integrating CRM with the LMS you give your customer an open platform and above all the importance that they deserve. When a student feels that they are valued just like a customer, they instantly get a content feeling of using the correct platform as they have the power and understanding of using the platform as per their convenience.
Centralized Database
One of the biggest issues that enterprises face is curating the data that they generate. Being an eLearning platform, you have a lot of data coming your way that can either make your decisions futuristic or convert your venture into a thing of the past. With integrated CRM LMS, you get a centralized database generated which can help you compare the stats. A CMS has the data related to every query a student has while the LMS shows what type of content they study or where do they stand in coursework, yielding interests and preferences for you. You can easily make the best of the data that you have as you can push better courses and get the retention of the user.
Customer Retention
Bringing customer retention becomes really tough when you do not know which customer is leaving you and why. Integrating the LMS and learning content management system with the CRM gives you a great peek into what your customer is engaging with and that data can be of great use for you as you can bring the retention rate to the required level. Not to forget there are times when you have a few leads in your CRM that you were unable to convert and with this integration, those leads will float up so you can connect with them through better customer acquisition techniques.
Improved Overall Performance
No matter what tasks you carry out, when you have a CRM-infused LMS, you optimize your workings by a huge margin. Be it as per user experiencer relevance of bringing the sales team on board with technology, everything takes a hike as now your sales team is familiar closely with the product that they are pushing making your growth seem like a smooth ride. You see, the hassle of enrolling new learners on the program is already gone as they get auto-enrolled once they enter your CRM. Also, you can not deny the fact that this integration combines your overall data so that you can take up the decisions wisely as you will have insights on what are your weak points and what are your pros.
Reduced Margin of Error
While maintaining multiple data streams the margin of error is huge. Combining the two core databases to integrate and use the applications of salesforce to simplify your generated data. Data integrity is one of the biggest issues that enterprises face. Not to mention redundancy is a key role-player in the contamination of the data. The reduced margin of error in the data automatically brings more and more value to the collected data. And as you might have got the idea, curating your data efficiently has been the biggest challenge that enterprises face and this integration is all set to solve it for you!
With these 5 core benefits, CRM-LMS integration has several other benefits that help you optimize your final performance well. A customer relationship management system and a learning management system are the most important tools for today's enterprise and thus integration is a must-have! One fine feature of this integration is the reduced hassle of use. When a person comes on board your platform, they have to learn about using a CRM first and then get acquainted with the LMS. With the complete Salesforce and LMS integration, the learning curve is reduced and a customer is up and ready to rock the platform in just a single tour.
Final Words
The implementation of CRM-LMS integration is something that the experts have always wanted without realizing and the majority of the LMS development companies have already started providing LMS integration with various tools. Making things super easy for the enterprises to get on board. From a salesperson to the lead, every individual can benefit from these integrated tools as it brings a lot of productivity in everyday use, and hence, the purpose is completed for the tool. Hope the post has cleared all the doubts related to what makes CRM-LMS integration essential to drive business the success that you aim for. The benefits mentioned helping you fetch better results in your venture, making it a complete win-win for you and your enterprise!