Your bedroom is a restful retreat and the most important space in your house. Therefore, the décor and design of your bedroom should speak peace, serenity, and relaxation. Your bedroom should be a place of tranquillity, a place to zone out and watch your favourite shows, curl up with a good book and sleep well after your long tiring day. Therefore, to make your bedroom comfortable, it is important to redesign it in a creative and smart way.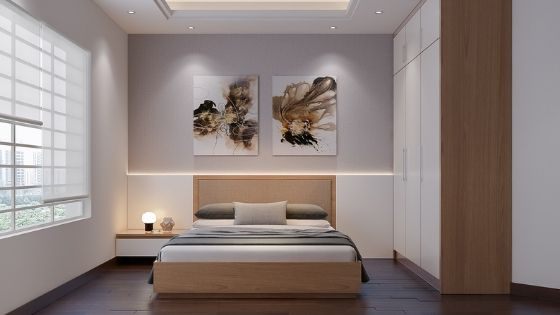 While rethinking your bedroom's design, you search for different ideas, consult experts and filter out the designs that would help you create a positive, lively, and inviting environment for your bedroom. And, as it's your 'bedroom',your bed should be one of the carefully chosen things. So, what makes for an ideal option while choosing a bed? A wooden bed!
A wooden bed is a perfect option for transforming your room into a luxe chamber, where you can enjoy lounging in style and comfort. Irrespective of whether you're a lover of traditional, modern, shabby chic style or vintage country-style bedroom designs, wooden beds would be your best bet. And, if you do not want to experiment and want to make the right choice in the first place instead, buy a Sheesham wood bed from a reliable brand like Duroflex. They offer A1 quality, durable, sturdy, and weatherproof wooden beds coupled with a wide array of benefits.
Why Should Sheesham Wood Beds Be Your Ideal Choice?
It is sometimesperplexing to make the right choice when it comes to buying the right wooden bed that offers a perfect combination of style and practicality. This is because the design, style, and quality of every type of wood differ from each other. Though durability and longevity are the primary factors to be considered while choosing your wooden bed, many other factors may affect your choice. Sheesham wood is an excellent choice for double or single beds. Let's know the interesting reasons behind the popularity of Sheesham wood beds:
1. Durability
Your bed's durability largely depends on the type of wood used for making it. And, the beds made from high-quality and original Sheesham wood earn applause in the context of their durability and longevity. However, to ensure that the bed is made from authentic Sheesham wood, buy it from a trusted brand like Duroflex. Their Sheesham wood beds are sturdy, durable, and have a rich honey finish, which would give your bedroom a contemporary look. Furthermore, they are weatherproof and make a great option for storage beds.
2. Longevity
As Sheesham wood is known for its longevity, wooden beds made out of it can be literally passed on to generations. Yes, we mean it. Therefore, once you invest in a high-quality Sheesham wood bed, you can stay worry-free for years. Additionally, it is anti-bacterial and resistant to termite attacks. Be it practicality or aesthetic design, Sheesham wood beds make for one of the best options and offer unparalleled comfort and timeless design.
3. Best Carving Alternative
As Sheesham wood has a medium-coarse texture and is quite hard, it proves to be the best ingredient for engraving and carving designs. It is also known to be the best hardwood for carving as it is easy for the makers to make exquisite and intricate carvings on such wooden beds. Do you wanna take a look at some contemporarywooden bed designs online? Visit the website of reputable brands such as Duroflex. It is one of the top sellers of wooden beds and is known for its high-quality furniture.
4. Available in Diverse Shades
When choosing a double bed, you may look for different colors and specifications. And, guess what? Sheesham wood is available in multiple natural shades, rendering an appealing look to the bed or any other piece of furniture carved out of it. This is one of the reasons you would find Sheesham wood bed designs attractive. In addition, the wooden beds carved out of Sheesham wood get a premium and royal look from Sheesham wood's natural grains, which range from dry redwood shade to plain withered finish.
Closing thoughts
Whether your home is traditional or modern in design, Sheesham wood lends that wonderful 'cottagey look' and classic styling. Once bought, your wooden bed might go on for an unforeseeable period.
Wood has been used in beds for centuries due to its warm and tactile qualities, robustness, and superior-good looks, meaning there still exists wooden beds which date back to Henry VIII's boudoir antics. Isn't it an exaggeration, you may ask? No, maybe! All you need to do is buy your wooden bed from a renowned brand like Duroflex. Besides offering top-quality, moisture-protected, sturdy, and durable Sheesham wood beds, they offer a wide array of benefits. Such benefits include one year warranty, a no-cost EMI payment option, and a free Duroflex mattress of the same size. What else do you need for a restful sleep? So, head to their website to explore a variety of wooden beds!