As more and more new technology is developed every day, different industries find ways to include them in their day-to-day work. Hospitals are also advancing to be more modern and provide the best healthcare service to their patients. This has given rise to several trends in the healthcare management industry that students about to join the workforce must know about.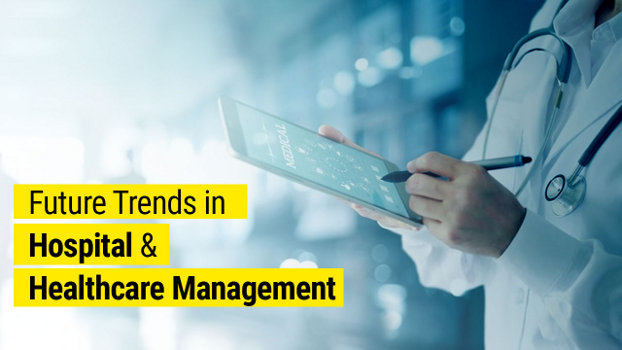 KK Modi University which is globally known as the best private university in India has tailored courses in healthcare management. They have BBA and also MBA in Hospital and Healthcare Management. Graduates go on to work in both private and public hospitals in management and administrative roles. Upcoming graduates from these courses stand to witness a major change in hospitals. Let us see what some of these changes are.
Upcoming Trends in Hospital and Healthcare Management
There are many trends that hospitals will witness in their management department. Some of the major ones have been elaborated in short below.
Better supply chains: The covid pandemic blew a massive hole in the supply chains at hospitals. There was a constant demand for oxygen tanks, surgical masks and life-saving medicines. With hospitals going back to pre-pandemic days, the supply chains are being reinforced for any more spike in demand. Many hospitals are setting up more storage space to reduce the time for stock-up time for medicines and other essentials. They are also paying much attention to strong relationships with suppliers to help set up strong supply chain models. There will also be the use of predictive data to help in their effort.
Specific Outpatient Care Centre: Students in BBA in hospital and healthcare management courses concentrate on outpatient care centres. Specifically, they learn how to specialise in the care provided in these centres. As these centres do not require an overnight stay, the care provided by them is quick and general. However, if these centres were to provide specialised care pertinent to each patient, it would bring in a host of benefits. For instance, there would be lower medical costs, free up physical space at the hospital and also the quality of work would improve. More and more hospitals are looking for different ways to improve their outpatient care centres.
More privacy: Wherever technology is being used, in the case of hospitals it is patient records, there will always be the risk of privacy violation. Hackers will always look for gaps in security through which sensitive data can be leaked. The said data can include patient health history and also payment and banking information. Hospitals would now be paying more attention to the safety of their data. This is a costly affair but it is an inevitable cost that all medical facilities would willingly put up with. Security policies would be regularly updated to make space for changes.
Personalised Care: Who wouldn't want their health care to be perfectly tailored to their needs and wants? This is exactly what can be expected from healthcare facilities in the upcoming years. Doctors would now be more receptive to the patient and pay attention to what the patient is saying. Communication skills would be stressed for both the doctors and the nurses. This facility stretches out to both in-person and online health care. Everyone has a case where they have walked away from a doctor feeling not heard and confused regarding the entire process. The overall tone would be highly respectful leaving a high level of satisfaction.
Workforce Diverse: As more and more students are enrolling at different universities in Chhattisgarh and India that provide medical management courses, will be added to a more diverse workforce. This workforce, especially in India, will be quite diverse with varying skill sets and talents. These graduates will be more flexible making them perfect workers to fit into any work setting. Moreover, in the same argument, the hospitals and the workplace would design their employee policies to cater more to their employees. There will be more emphasis on mental health care and avoiding burnout by providing remote work facilities.
Virtual Care: This is one trend that has started in many hospitals and medical facilities due to the covid pandemic. Some of the best hospitality management colleges in India have their students contributing towards building a virtual care system. Here, virtual care refers to medical advice given over smartphones, laptops and similar devices with streaming services. Having virtual care will enable hospitals to reach out to a wide number of customers in all areas of the country. Additionally, for certain disorders like mental issues, for which one might be hesitant to visit a doctor physically, they can avail of all the services right at home.
Artificial Intelligence and Automation: Artificial intelligence and automation are going to be spread out in the field of healthcare in different departments. The first department where its effect will be felt is radiology. Minor redundant tasks will be eliminated and fewer errors in the results. Other administrative or non-medical areas will also stand to benefit from the wonders of AI and automation. Customer service, supply chain and also revenue cycle are some such departments of a hospital that will witness AI. All of these together will definitely improve productivity and save time considerably. One of the top degrees that will help in this regard is MBA in hospital and healthcare management.
Predictive Analytics: Data is the king in all organisations, regardless of the industry one is in. It is only unavoidable that the medical field and hospitals will catch up to it too. Healthcare providers will utilise analytics to make predictions such as finding at-risk patients and ways to improve the healthcare of societies. Data Scientists are going to be hired in hospitals where they will do real-time analysis where they would be finding gaps in patient health care to bridge. Another goal of introducing data analytics would be to find out ways to save money while providing the best standards of service. You can find out more trends apart from these which are mentioned above. This is how we can vision the future of hospital and healthcare management.
Conclusion
Hospitals and the entire medical industry have evolved coming out of the covid pandemic days. While many of these changes were forced due to the demand of the day, they have given way to positive changes. From the use of artificial intelligence and stronger supply chains to a more diverse healthcare system and specialised outpatient care, there are many trends that are predicted for healthcare management. It goes without argument that patients would stand to benefit from these changes.
Indeed, the hospital and healthcare sectors have a bright future ahead. But in order to fulfil the requirements of this sector, students must have earned multiple practical knowledge and adequate management skills. To learn these skills, KK Modi University would be an ideal place for you. It is the most popular university in Chhattisgarh and other parts of India as well.