One of the main ingredients of a successful business is an excellent team. Building one takes time and effort, though, especially for newer businesses. If you want to learn how to do it, keep reading.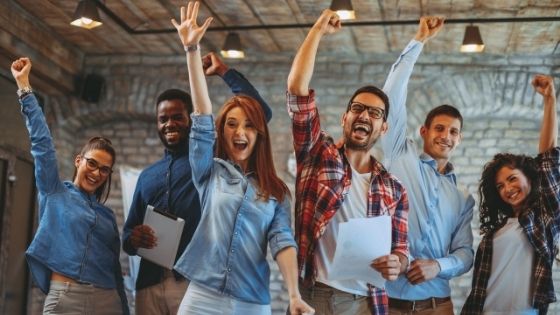 Let Your Employees Grow
Loyalty can only happen when employees stick around, and they will only do so if working for your business is worth it. To make sure it is, you must provide a workplace that enables growth. By developing your team, they are more likely to stay committed to their work. Offering courses like online executive education is a great way to let your employees grow, as they will learn leadership skills that'll benefit the business while giving them a reason to stay.
Provide a Friendly and Comfortable Workspace
The impact the environment has on work ethic is huge. It's crucial, then, to provide a workspace that is both friendly and comfortable by decorating well and cultivating a positive atmosphere. Lots of natural light, some office plants, and high-quality equipment are all helpful additions!
Create Solid Company Values
Loyalty comes easier when people genuinely value the company they work for, so give your employees a reason to like their job by creating solid company values. That could include going green, promoting a good work-life balance, or ensuring respect is given throughout the company.
Be Open to Feedback – and Listen to it
No matter how happy you think your employees are, there may be some gripes they have that you don't know about. To ensure you hear everyone's side, you must create an environment that promotes feedback. Then you must actively listen to it when it is delivered. By doing this, your staff will respect you more and will be more likely to stick around.
Reward Hard Work
People need recognition for their hard work. Without it, they may feel their efforts aren't worth it and that they might be appreciated more elsewhere. So, to ensure the best of the bunch stick around, be sure to reward them with things like coupons, an afternoon off, or a fully paid lunch. Sometimes, even just verbal praise will suffice.
Focus on Your Employee's Strengths
It's hard for people to give it their all when they aren't working to their strengths. By focusing on what your staff can do rather than what they can't, you will create an environment that allows your employees to shine. As soon as you hire someone, make it your mission to get to know the tasks they enjoy, the ones they're good at, and where they fall short.
Offer Great Benefits and Pay
Lastly, you must offer your staff great benefits and pay if you want them to work hard and stay loyal to the company. No matter how fun the workday is, if another job offers a significant pay rise for them, they will likely leave. So, keep the best talent in your business by paying them what they are worth.
It might take a little more effort on your part, but by working hard to create a loyal and devoted team, your business will greatly benefit.