So you are up for a product management interview soon. First things first, hearty congratulations for attracting the attention of the recruiters. Even though it may not feel like an accomplishment, landing an interview is no small feat because so few that apply get called back for interviews.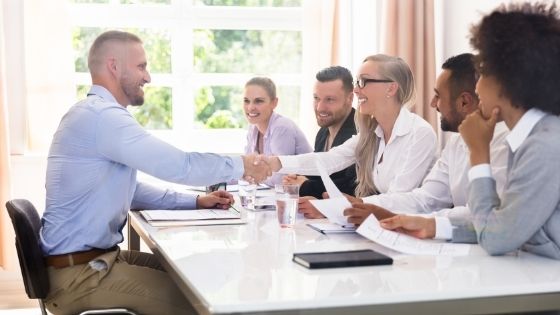 Now that the easy part is done, next comes landing your big interviews. But there is no reason to panic or worry. As a candidate for a product manager position, you may find yourself contemplating; how can I ensure that I snag the position? What questions will the interviewer ask? Even though job interviews can be daunting, it doesn't have to feel like the most stressful part of your job search.
A job interview is simply an opportunity for you and your employer to understand one another as well as what you both bring to the table. An interview is a great opportunity for you to get to know the organization that you want to work for on a deeper and more meaningful level. But more importantly, interviews allow you to figure out whether the position is a great fit for you.
The best thing that you can do if you want to nail your next product manager interview is to prepare. Preparing will help you know what to anticipate, as well as how to handle random scenarios and questions that are thrown at you by the interviewer.
But passing an interview and passing well, is easier said than done right? You don't have to worry anymore. To help you out, here are 5 tricks that you can use to nail your next product manager interview:
Educate yourself
You want to spend a few hours learning as much as you can about the company that you wish to work for- from as many reliable sources as possible. If you can, try and get a sense of 'who' the organization is so that you can embody a similar personality during your interview.
Social media can be an excellent resource because it will allow you to get an inside peek at the company as well as what its employees think of it. Are they laughing and joking around with each other? Feel free to throw in some jokes. Are they excited about a recent product launch? Why not worm that into the conversation?
Anticipate what the interview questions will be
Even if you have been interviewing for years and have mastered the art of passing an interview, you must spend time thinking carefully about which skills, accomplishments, and interview answers will resonate with your soon-to-be employer.
Although every interview is different there are certain answers that you should expect at every interview. For instance, you should always have an answer to ''tell me about yourself'' at your fingertips. Most interviewers tend to ask this question at the beginning of the interview. As such, if you nail it, it will set the tone for the rest of the interview.
Once you've compiled a list of commonly asked product manager interview questions, prepare by jotting down a couple of notes or bullet points so that you can keep them on standby. You don't want to prepare by writing out your entire answer. This will sound too rehearsed as though you are reading directly from a script.
Know how to handle the salary conversation
There is no set standard for how much a product manager should earn. When the interviewer asks you about the expected salary, try and push back that conversation until you understand fully what your position will entail. One way you can do this is by saying 'I'd love to learn more about this job title so that I can better understand what value I'll be adding as a whole'
Please note that in some states, interviewers are discouraged from asking applicants such questions. Before the interview, consider education yourself so that you don't end up being tied to your previous salary history.
Be yourself
It might be tempting to act like someone else during your interview but don't. If you are hired based on your personality during the interview, you will have to embody that persona throughout your employment because that is what the employer will expect from you.
Plus, acting like someone else is an exhausting job that will make the interview process more daunting than it already is. Be yourself from the very beginning; the only way you'll know whether the organization is a good fit for you is by being your authentic self.
Practice
The best technique that you can use to avoid sounding robotic throughout your interview, whether you are answering or asking questions, is to practice. It is easy to tell when something sounds fake so it is generally a good idea to conduct some practice rounds with friends or family before your scheduled interview.
You can also practice in front of the mirror. Although it may be awkward, you will have a safe space to make mistake so that you can learn and rectify them, which will make you better prepared.
Remember to keep things simple. Don't feel like you have to give a long complicated answer especially if the question asked doesn't warrant it. Give clear and concise answers- complicating things will only make the interview process more overwhelming.
Final Thoughts
Interviews can be intimidating and unnerving. However, there is nothing like being asked an important question by your peers only to give the expected answer. But this can only happen if you arrive fully prepared.
To land that product manager job, you will need to do a lot more than just Google a list of common interview questions. You also need to make a good first impression as well as have sound knowledge of the company that you want to work for and the requirements of the job.
Sounds simple enough, right? These tips shared above may be simple, but they will help you land that coveted position. You're welcome!